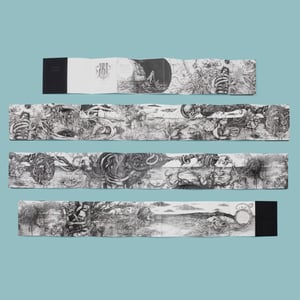 £

160.00
Artist: Tim Lane
Title: Anima Mundi
Date: 2014
Dimensions: Closed 14.5 x 20.4 cm; Open 509 x 20.4 cm
Edition Size: 200
Details:
This limited edition concertina book is a reproduction of a 5 meter long graphite on paper drawing, which folds into an A5 hard backed book and slipcase. The book is designed so that its pages can be recombined with each other by folding the pages back and forth revealing new narratives with each viewing. Its aim is to provide a starting point for imaginative thought, resulting in an exploration of some of the most fundamental and timeless ideas and questions.
Description:
The title 'Anima Mundi' is derived from the Latin phrase for 'Soul of the World' and represents the intrinsic connection between all living things. It reflects the energy of our world much like the soul is connected to the human body. The layout of the book evades any finite ending as the viewer creates layers of mystery that reject the notion of a linear narrative. In turn, the viewer is given ownership of their own personal narrative as they interact with the work.
'Anima Mundi' explores Myth bringing together icons and motifs from different world mythologies to create an enigmatic open-ended narrative. Dripping in sensuality and symbolism, Tim Lane's beautiful draftsmanship invites us into a world where nothing is set in stone and everything has a duality of meaning. As severed heads and skeletal frames are juxtaposed with fertile plants and flowers, questions emerge about chaos, life, death and decay. Anima Mundi explores not only the artist's subconscious through these dream-like scenes but also gives access to this wider collective consciousness.
Tim Lane is a contemporary fine artist living and working in Bristol, UK. Graduating from Falmouth College of Art in 2004, Tim has been concentrating on fine art painting and drawing. Tim's degree helped to give structure to his love for working directly from his imagination and also encouraged a passion for drawing, which is at the core of all his work. With styles influenced from Classic Literature and World Mythologies, Tim seeks to explain the world in a visceral, imaginative, dark way, often with an animalistic element.
The Anima Mundi edition has been made possible through the support of over 140 people worldwide that supported our Kickstarter campaign – details here
If you would like to collect the work from our Bristol gallery, please select Andorra as the shipping destination and you will not be charged for shipping.
For details on the solo-show which will launch the book, please see:
http://www.antlersgallery.com/project/anima-mundi
http://www.independent.co.uk/arts-entertainment/art/features/tim-lanes-vivid-illustrations-bring-timeless-themes-of-love-and-death-to-life-9529973.html
http://www.bbc.co.uk/news/uk-england-bristol-27146637
Original works by Tim are available, to find out more please contact Jack on:
jack@antlersgallery.com or 0778 050 3180